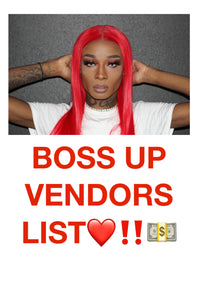 Master Vendor list! Jump start your business TODAY!
                    (Please Read)
Nails supplies
Clothing kids/adults/plus size/workout
Hair
Cosmetics
Packaging
Lashes
Skin Care
Candles
Hair Products
Waist Trainers /body shapers/ butt lifters
Microblading Products
& Much More
List includes 21 wholesale vendors each vendor sales over 25 wholesale products, please read the first 2 pages of the list as it explains the instructions on placing your order! 
The Master Vendors List requires you to have WeChat and WhatsApp. You must obtain access to both apps on your own. We are not responsible for providing access to WeChat.
Return Policy:  List cannot be Returned; Once list is purchased it comes straight to your primary email address. Attached in a PDF form. No Refunds No Returns